Pops-G Kickin' Hawaiian BBQ Chicken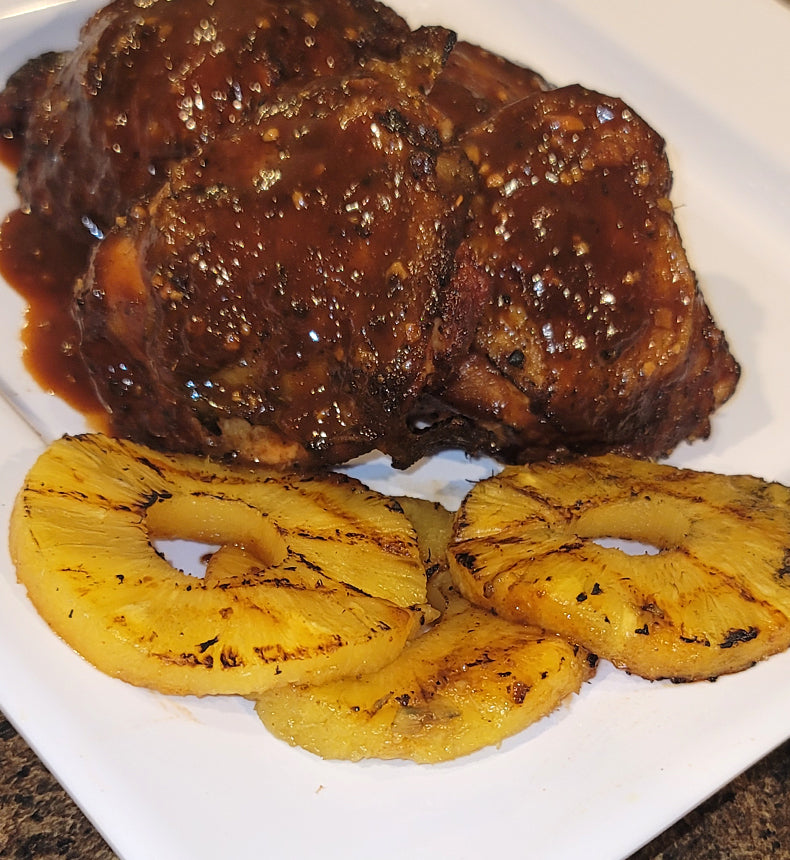 Ingredients
Salt
Ground black pepper
8 bone-in chicken thighs
12 oz. Pops-G Spicy BBQ Sauce
1/2 cup of pineapple juice
1/4 cup of orange juice
1 tbsp. minced fresh ginger
3 garlic cloves minced
Grilled sliced pineapples to garnish
Sauce Preparation
In a small saucepan, combine Pops G spicy bbq sauce, pineapple juice, orange juice, ginger, garlic. Bring to a boil, stirring over med-high heat. When it starts to boil, reduce heat to low, and simmer for 10 minutes.
Chicken Preparation
Season chicken thighs with salt and ground black pepper
Prepare one side of your grill for high, direct heat.  If you are using charcoal, or wood, make sure there is a cool side for indirect heat cooking. Heat your grill or bbq pit to moderate to high heat - 325 to 350 degrees.
Lay chicken pieces skin-side down on the hottest side of grill in order to sear the skin side well (but do not burn), grill uncovered for about 3 to 4 minutes on each side depending on how hot the grill is.
Once you have a beautiful sear on the chicken, move the chicken to indirect heat, and continue to cook for 25 to 30 minutes. Keep chicken covered and undisturbed on low to moderate heat - 300 to 325 degrees.
Coat both sides of the chicken pieces with Pops G Kickin' Hawaiian BBQ sauce, then cover the grill and cook for another 15 to 20 minutes. (Do not be afraid to sauce the chicken).
Cook the chicken pieces until they reach an internal temperature of 165 degrees.
Garnish with pineapple slices
Serve and enjoy!