Pops G Spicy Asian Spare Ribs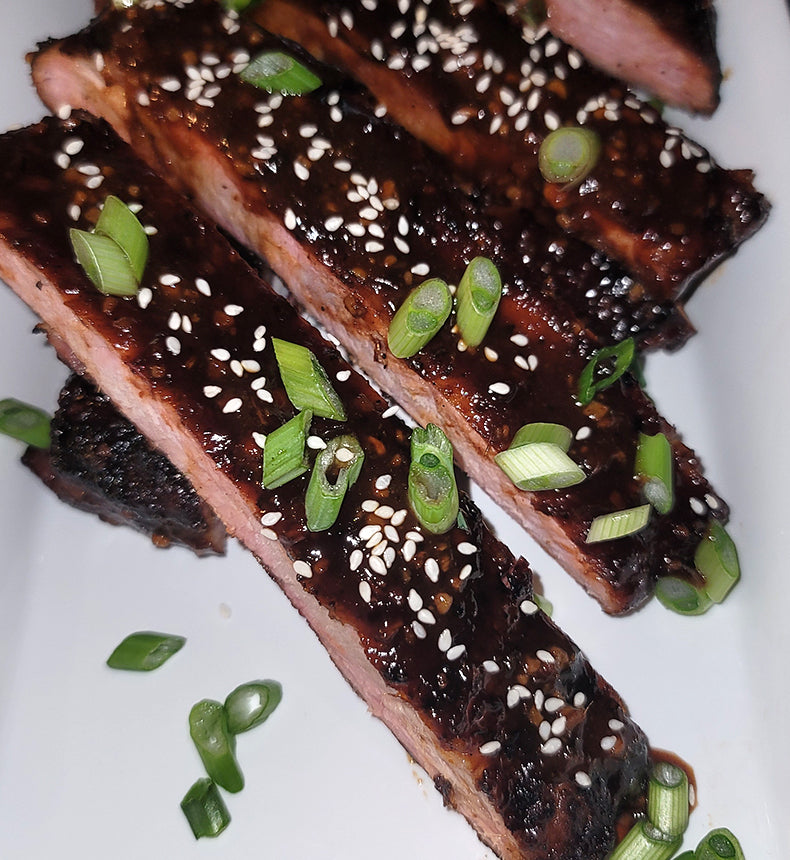 Ingredients
10 oz. Pops G Original BBQ Sauce
1 tbsp. Asian chili garlic sauce
2 tbsp. soy sauce
1 tbsp. fresh minced garlic
2 tbsp. minced fresh ginger
1 tbsp. orange juice
1/8 tsp. Chinese five spice
Sauce Preparation
In a saucepan combine Pops G Original BBQ Sauce, Asian chili garlic sauce, soy sauce, fresh minced garlic, fresh minced ginger, orange juice, and Chinese five spice. Bring to a boil, once it reaches a boil lower temperature, and allow sauce to simmer for 10 to 15 minutes.
Rib Preparation
Clean and trim ribs.
Remove membrane off back of ribs.
Lightly coat ribs with olive oil.
Coat ribs with Pops G Pork Rub and let ribs marinate for at least 4 to 6 hours - 24 hours for best results.
Smoke at 250 to 275 degrees for 2 hours. Mop or spritz every 30 minutes.
Remove ribs from smoker. Wrap in a double layer of foil and place ribs back in smoker for roughly 70 to 80 minutes. Ribs should have an internal temperature around 180 degrees.
With the smoker still at 250, unwrap ribs and place meat side up. Apply sauce to the ribs every 10 minutes for the next 30 minutes.
Pull ribs off the smoker and allow to rest for 15-20 minutes
Serve and enjoy!